Plug,the White House,a Potato(Grotesque)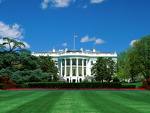 Once i went to the White House on excursion.I wished to sell a few potatoes and to buy a presidential plug.
More precisely to tell not to buy,(impudently) to take from the kitchen.I didn't went on excursion.
Security has not let me in.Gorillas! I was upset.I have taken a shovel and have started to dig a trench to the house.I have counted to five seconds.There have arrived hospital attendants,for me.I have told that - i am a mole,they have released me.
I has gone home.Unexpectedly i saw a man laying on the road,he was naked.It was near my house.I also saw a woman and an old man,which were laying on the road,they were naked.I have undressed and  have laid down too.
And I have understood all.It is good to be free.Even if i not the billionaire.The person always does not have a few money.And here on it, - i went to the White House with a potato to sell it and to earn money.The situation was similar.A bit of grotesque.
Thank you for attention!